Continuous Improvement of SEL Implementation within Minneapolis Public Schools: Tracking the Journey and Pivoting Along the Way
Inform
By: Rafiqah Mustafaa and Kate Diamond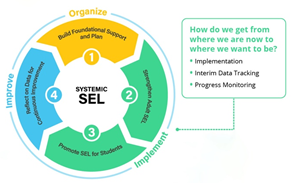 Last week's blog post highlighted Guilford County Schools' strategic planning process during the "Organize" phase of systemic social and emotional learning (SEL) implementation. Once planned, a district enters the "Implement" stage in consistently documenting efforts and monitoring the implementation process to address challenges that arise. A key feature within this stage of continuous improvement is that of rapid learning cycles. When teams collect formative data, they engage with that data to make evidence-based decisions "in the moment" and potentially course-correct or reprioritize workstreams instead of waiting until the end of the year to reflect.
This week's post will share how the Minneapolis Public Schools (MPS) SEL team; MPS Research, Evaluation, and Assessment team (REA); and their CASEL consultants engaged in the "Implement" phase of systemic SEL with a subset of MPS schools.
The Journey to Year Three of Implementation via the "Organize" Phase
Minneapolis Public Schools has been a member of the CASEL Collaborating Districts Initiative since 2017. In spring 2019, after having engaged in the "Organize" phase via strategic planning in years one and two of the partnership, the MPS team identified three priorities for the 2019-2020 school year. One priority was to "document SEL implementation and innovative practices including the continued pilot of the SEL Quick-Check with identified cohort 1 and cohort 2 schools." This work, with a subset of their cohort schools, is the focus of this post.
The MPS SEL implementation model involves systematically rolling out SEL in schools across the district, with successive cohorts of schools each year, over three years. Year one focused on Adult SEL, year two focused on direct instruction to build students' SEL competencies, and year three focused on integrating SEL with academics. This model is grounded in MPS' SEL theory of change, which positions positive outcomes like student SEL skill attainment and improved school climate as the result of direct SEL instruction, embedded and integrated SEL content, schoolwide SEL, family engagement, community partnerships, and cultivation of human capital.
The MPS team, supported by its CASEL consulting team, has used this rollout model and theory of change to guide school-level SEL implementation. In year three, the MPS-CASEL teams employed a variety of strategies to answer the question "how do we get from where we are now to where we want to be?"
Continuous improvement is integrated into the "Implement" phase of SEL by:
Collecting data to assess progress toward SEL goals and
Using formative data to monitor progress toward successful strategy implementation and goal achievement
In answering the essential question, "how do we get from where we are now to where we want to be?" a variety of data were collected to monitor progress during the 2019-2020 school year with a subset of cohort schools. In collecting formative data during the year, teams were able to reprioritize the types of implementation supports offered to school leaders and SEL teams.
Using Annual School Improvement Plan Data and Interviews with School Leaders to Rapidly Learn About Schools' SEL Journeys and Improve Support to Schools
Our MPS-CASEL team engaged in numerous practices to rapidly learn how a subset of cohort schools were implementing SEL, to identify areas of strength, and to develop plans for providing needed support. All MPS schools are required to create an Annual School Improvement Plan (SIP), outlining academic and other goals, planned strategies to achieve those goals, and data that will be collected to track progress. MPS SEL cohort schools include at least one SEL-focused goal in their SIPs.
The data scientist supporting the SEL team engaged in a systematic review of these cohort schools' annual evaluations in their SIPs to understand common supports and challenges that schools had experienced as they worked to implement SEL. An example of a common support was the integration of SEL with other school priorities (e.g., equity, Multi-Tiered Systems of Support), and a common challenge was a lack of shared language and understanding around SEL within the school. The MPS data scientist shared these learnings with the district SEL team to support the real-time use of school-level data to inform districtwide SEL strategy.
CASEL consultants then conducted interviews with these cohort school principals and SEL teams to learn about their SEL journeys including goals they had set, strategies implemented, and resources needed to support their work moving forward. As a result of these interviews, the CASEL-MPS team identified areas in which each school needed support, and used these interview findings to revise the collective plan for building schools' capacity for SEL implementation. For example, a subset of interviews revealed that some leaders wanted to revisit the schoolwide SEL visions they'd created earlier in their SEL journeys. While those initial visions helped to guide the schools' work, the leaders thought it would be helpful to update those visions based on their evolved goals for SEL and current realities. While the CASEL-MPS team did not enter these interviews with school leaders with a plan to support re-visioning, learnings from these interviews led to the development of a half-day professional learning session for cohort schools that focused on "re-visioning" SEL implementation. The professional learning session relied heavily on the CASEL tool for Developing a Shared Vision for Schoolwide SEL, which supports schools who are establishing or re-establishing a shared vision for SEL. By using data from interviews with school leaders, the MPS team was able to readily offer a professional learning session that supported schools' identified needs.
At the end of the professional learning session, CASEL facilitators collected feedback from participants about their experience in the session, prior work developing an SEL vision, usefulness of session resources to their work, and remaining questions about SEL. The MPS-CASEL team reviewed this feedback and discussed how school leaders' experiences could inform future professional learning for participating cohort schools.
This process of learning about the school-level SEL implementation journey via SIPs, leadership interviews, and a professional learning (PL) session feedback survey helped the MPS team to understand what SEL resources and supports were needed by schools, and this led the MPS and CASEL teams to tailor supports such as professional learning and coaching to support those needs in real time.
Using the Schoolwide SEL Walkthrough Protocol to "See" SEL in Action
The MPS-CASEL team used SEL school observations ("walkthroughs") to see SEL implementation in practice in a subset of cohort schools, improve support to those schools and district-level strategy, and help build those schools' capacity to use interim data tracking for SEL continuous improvement.
The CASEL Indicators of Schoolwide SEL Protocol supports ongoing improvement of schoolwide and classroom-level SEL implementation. The tool is based on the Indicators of Schoolwide SEL, and provides observers with concrete items to look for in relation to student experience and staff practice. The tool is commonly used by school- and district-level staff to understand the nature of schoolwide SEL and use the observation data for reflection and improvement of SEL strategy.
During the 2019-2020 school year, the MPS-CASEL team used the walkthrough protocol during visits to a subset of cohort schools. Each visit involved an initial debrief meeting during which CASEL and MPS district staff introduced the tool and the purpose of the walkthrough to the school's principal and SEL leadership. The group formed walking teams which often included at least one member of the school's SEL leadership, one district SEL or REA team member, and one CASEL consultant. Walking teams visited classrooms and common areas such as hallways and the lunchroom, spending fifteen minutes observing each space. After each observation, individual walkers assigned ratings for each of the indicators covered in the tool. After completing the walks, the smaller walk teams came back to reflect together. This walkthrough process helped the MPS-CASEL team "see" SEL implementation in participating cohort schools, and use the observation data for real-time discussion about how to improve school-level SEL practice.
Using the SEL Quick-Check to Inform Classroom-Level Practices
MPS is piloting its own SEL continuous improvement tool (the SEL Quick-Check) in two schools. The SEL Quick-Check was developed by MPS researchers to measure student SEL competency development, and to help teachers use the student competency data to develop strategies for supporting student SEL.
To use the tool, participating schools select one or two SEL competencies of which to focus from the CASEL five SEL competencies. Schools administer the assessment with items related to the competency(s) they've selected at least twice a year. Students respond to items related to their perceptions of their own SEL competencies. Teachers also respond, rating their perceptions of students' SEL competencies. The online instrument includes between five and eight items per competency and takes between five and ten minutes for students and teachers to complete. After each administration of the Quick-Check, the school receives a schoolwide report that compares student and teacher perceptions of student SEL competencies. The schoolwide results are also disaggregated by student race and ethnicity for any groups that have at least 20 students. Individual teachers receive an aggregate report that summarizes the data for their classroom.
District-level staff facilitated professional development sessions with participating teachers both before and after the administration of the Quick-Check. These sessions involved working with teachers to understand the data and to think through how aspects of their identity (e.g., race) affected the ways they understood their students' SEL development. This process was meant to support teachers' own SEL competency development, and their capacity to use the data to improve their practice. The district SEL team could also use the data to learn across schools currently piloting the Quick-Check.
This process is being piloted in two cohort schools. So far, the Quick-Check data has revealed increases in certain SEL competencies between the first administration in the fall and the second administration in the winter, as well as decreases in other areas. The third spring administration was canceled due to the COVID-19 outbreak and resulting school closures.
The Path Forward for Using Interim Data Tracking to Continuously Improve SEL
As the MPS team gears up for another year of SEL implementation, the team will draw on the processes outlined here to continue to understand what SEL implementation looks like at the school level, and to improve strategy for supporting school-level SEL implementation. This is especially relevant given the recent COVID-19 pandemic school closures and uncertainty about what school year 2020-2021 will look like. Along the way, the team will continue to prioritize learning about current practice to make decisions about pivoting during the academic year and planning for the future.
Questions to Consider
What formative data do schools in your district collect on SEL implementation and student outcomes?
How does your district use data to course correct within a school year?
How does your district's Research & Evaluation department work with schools to support data collection and use for schools' SEL continuous improvement?
Next week, CASEL Assistant Director of Continuous Improvement, Dr. Duncan Meyers, and Denver SEL team members Kim Price and Miranda Cook will share their journey illustrating how they have approached the "Improve" phase of systemic SEL in Denver Public Schools.
Dr. Rafiqah Mustafaa (rmustafaa@casel.org) is a CASEL Research Associate and Dr. Kate Diamond (Kate.Diamond@mpls.k12.mn.us) is a Data Scientist in the Minneapolis Public Schools district. Both work with the MPS-CASEL SEL partnership to help improve districtwide SEL strategies in service of equitable learning outcomes for MPS students.