Two For One: Using Our Academic Assessment Practices to Measure SEL
Inspire
SEL Assessment in Action
By: Rose Pennington, Institute of Positive Psychology and Education
Having spent last year out of the classroom and devoted to my PhD studies, I am loving being back with students (albeit three days a week) because I can apply much of what I have been studying to my practice, to see how it looks like 'in real life.' Given that my thesis is examining the ways in which teachers can promote both academic potential and social and emotional skills, I have been considering whether the strategies touted for academic assessment would also serve to measure the social and emotional competencies I want my students to demonstrate.
At my school there is a targeted focus this year on formative assessment; teachers have been split into small work groups to reflect on their practices and utilise new strategies with which to measure their students' understanding. Throughout the process I have been thinking about how such strategies could contribute to the conversation around the measurement of SEL.
I have long held the view that everything we do in the classroom ought to have concurrent aims based on both academic success as well as social and emotional skills (hence my chosen area of research). I encourage teachers to question everything they do through this light, and to disregard anything in their programs that doesn't tick both boxes.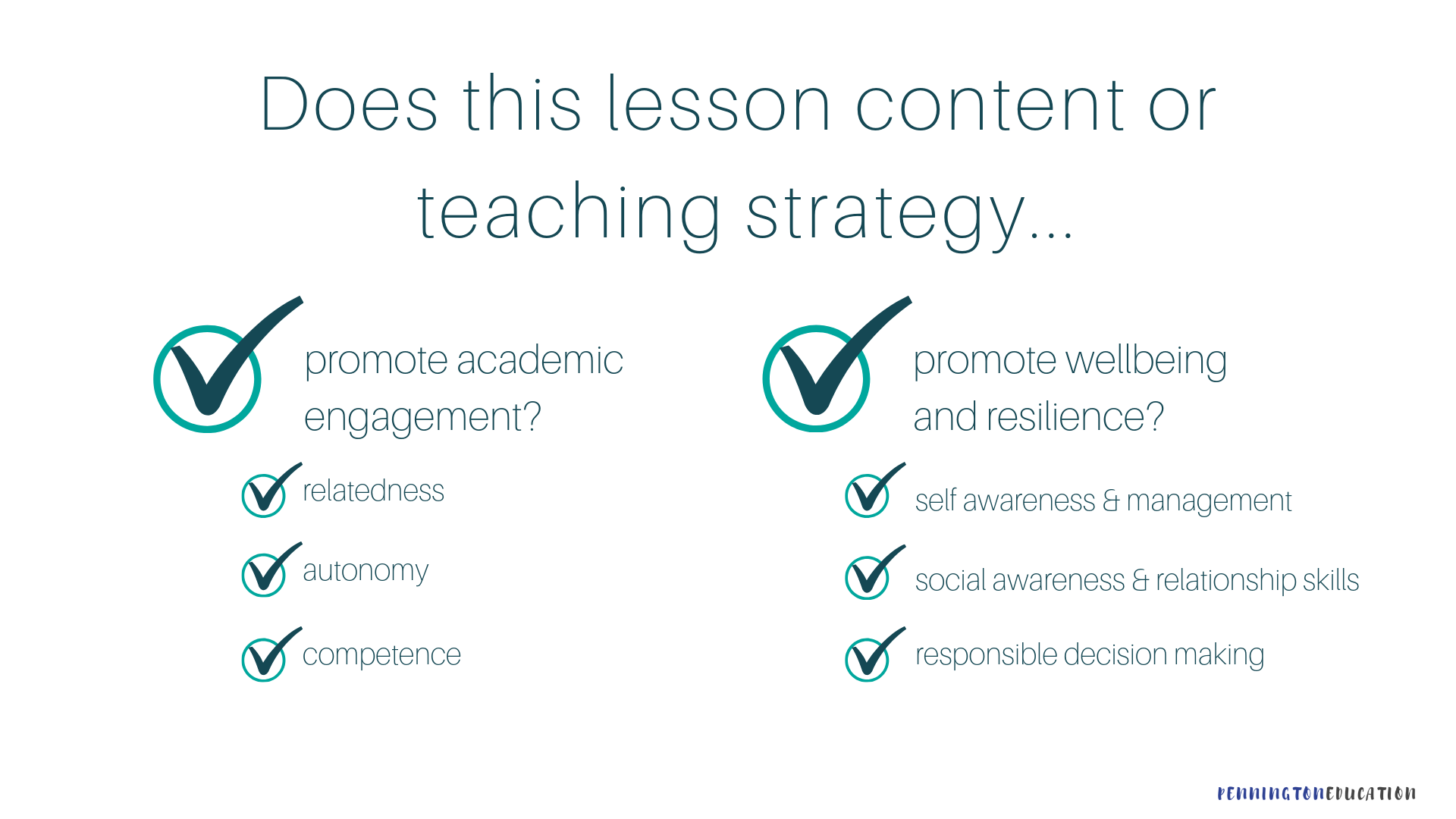 I have come to the conclusion that in the same way that our teaching strategies should be based upon academic, social and emotional learning, so too should our assessment practices. A happy conclusion really, given that many educators lament the lack of time in their schedules for extra data collection! It should be the case that anything you have been doing to assess your students' academic achievement (with the exception, I think, of some written examinations based purely on subject content such as maths) can also give you an idea of social and emotional wellbeing, and vice versa.
Considering my own practice in these terms I came up with my key assessment methods. First, I reflected upon the tools I use in my classroom regularly to assess my students' social and emotional wellbeing before questioning how they may be used in a broader context to assess academic learning as well. Then I did the same in the other direction; how do I measure their academic gains, and what does this process tell me about their social and emotional skills?
Allow me to illustrate with a couple of examples.
The morning check in. While the practical method for checking in with my students' feelings each morning changes according to age group (sitting in a circle chatting for the little ones, journal entries or post it notes for the older ones) or mood (theirs or mine!) the fact remains that having an individual interaction with all my students sets them and me up for the day. They know I care about them enough to ask how they're going, I can act on anything that needs it and it sparks discussion about emotions with each other. This assessment measures SEL, and informs my academic lessons; when I understand how my students are feeling about school and various subjects I can tailor my lessons to engage them properly.
Talking sticks. This has been a schoolwide initiative, involving 'no hands up' classrooms. Rather than ask a question and pick a student (often the same ones) to answer it, I pose a question, give students a while to consider their answer, and ask a friend if necessary, before pulling out a stick with a name on it to answer. This encourages engagement, as well as an authentic way to understand where gaps in students' knowledge lies.
Goal setting. This is something we all hear so much about, and to be honest, for ages felt like something that was just one more thing. I had been under the impression that all goals had to be of a serious, long term nature which was obviously not true! I am now inviting my students to make a goal each morning (social/emotional as well as academic), and then to reflect upon it during morning check in the next day. This serves to show students that they can make progress through minor changes in behaviour and allows me to track their areas of strength and also what we need to work on.
I hope this short list illustrates how every day assessment practices can inform both the academic as well as social and emotional needs of your students. It is vital that we keep a record of what we are learning. I personally keep one Google doc open (not different documents for different subjects or anything stressful like that!) and make updates throughout the day based on what I see. I don't believe however that we need to make any drastic changes to what we are already doing as teachers – as long as everything we do has the dual focus, we can be confident that we are educating the whole student, promoting both academic success and personal wellbeing.
Rose Pennington is a classroom teacher, education consultant and PhD student at the Institute of Positive Psychology and Education at the Australian Catholic University.
Contact: rose@penningtoneducation.com.
Disclaimer: The Assessment Work Group is committed to enabling a rich dialogue on key issues in the field and seeking out diverse perspectives. The views and opinions expressed in this blog are those of the authors and do not necessarily reflect the official policy or position of the Assessment Work Group, CASEL or any of the organizations involved with the work group.